IN CASA NEWS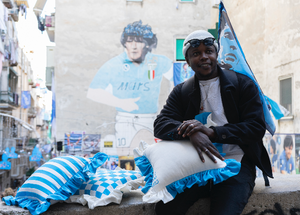 Napoli Scudetto Special
I invite you to join In Casa and the city of Napoli in celebrating our football team's historic win of the Serie A.  For the first time in over thirty years, Napoli are champions of Italy!  I wanted to capture the joy of this moment by designing a small offering of cushions in the iconic blue and white kit colours of our team.  
To celebrate, we are running a giveaway over on our Instagram feed.  Visit us over there for your chance to win!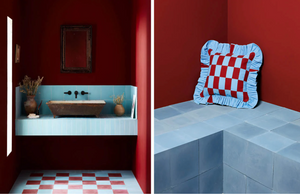 Bert and May Collaboration
definite 'pinch me' moment of my career so far - I have teamed up with renowned British tile manufacturer, Bert & May, to create three cushions inspired by the brand's extensive tile collection.  I hope that the patterns and colours you see in these designs evoke the unique aesthetic of this incredible brand, with whom I'm delighted to have collaborated.  
If you missed out on winning one of these designs in our Instagram giveaway, a small number of  these limited edition cushions are available to buy here!
Yoox x In Casa
I am excited to announce my collaboration with yoox for "Objects of Matter" A project created in conjunction with interior designer and curator Chris Glass

It was a privilege to work alongside such talented individuals from various backgrounds from art and design.

The diversity of perspectives and experiences has enriched our collective efforts, and we are excited to share the fruits of our labor with the world.We hope that through our collaboration, we can inspire others to push boundaries, challenge the norm, and create something truly unique.

Head to YOOX.com to shop the special collection!
Selfridges X In Casa By Paboy
Christmas 2022 was very special indeed as In Casa By Paboy played a helping hand in designing the famous Chrismtas window display at Selfridges Oxford Street. This is a huge honour for me and a significant milestone in my career.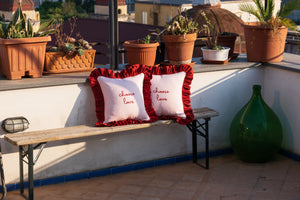 Choose Love Collaboration
I couldn't think of a better project to join forces with, since Choose Love's mission to support refugees and displaced people through the power of love and generosity fits exactly my dream for In Casa.
We have co-created a limited edition cushion available to buy here!
Homo Faber Event
We are delighted to announce that we are going to featured in the Michelangelo Foundation's Homo Faber Event "Crafting a More Human Future" in Venice this spring.
The exhibition features craftsmanship from across Europe and Japan and takes place from 10th April - 1st May 2022.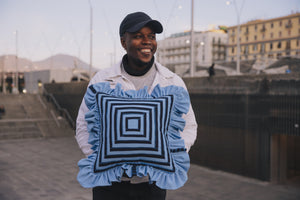 Mother's Day Drop
This collaboration is really special. Like me, my mum loves beautiful fabrics. From dying the materials to the stitching this limited edition cushion is made with 100% love and 100% cotton. Click here to shop the limited edition cushions and Happy Mother's day to all my wonderful supporters.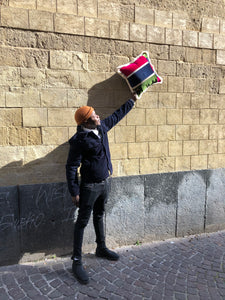 Gambia Independence
To celebrate Gambia's independence from British colonisation in 1965 I have designed an exclusive line of limited edition cushions. They are now available here on our website! There are only 10 of each design so be quick! 10% of all proceeds will go towards providing meals to migrants in need in the Garibaldi area of Naples.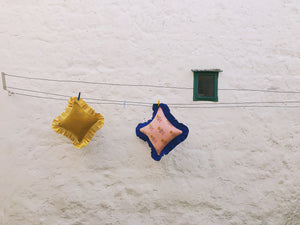 Block Shop Collaboration
We are so excited to announce our collaboration with the beautiful Los Angeles Based Block Shop.
Available to buy online NOW!
WHAT THEY SAY...
Cult cushion brand In Casa by Paboy is now available at Selfridges. Originally from the Gambia and now based in Naples after seeking asylum, Paboy Bojang's handmade collection has got interiors lovers in a tizz: his cushions boast bold checkerboard patterns that are guaranteed to lift your living room. 

British Vogue
Bojang's style is right on the pulse of what is on trend right now, featuring glorious colour combinations and finishes such as pom-poms, frills or fringing.

Stylist Magazine, UK
Colour to fight the winter gloom, really is key at this time of year. Case in point: handmade ruffled and patchwork cushions from In Casa by Paboy. A pair of these would give any sofa an instant zingy update.

Luke Edward Hall - Financial Times
I just discovered In Casa By Paboy, who makes the most exquisite cushion covers in italian cotton to order.

Kate Watson-Smyth, Interior Designer, UK
Laura Jackson, TV Broadcaster, UK
Paboy, the Designer Behind the Most Joyful Cushions on Instagram

Carmen Rosy Hall, Journalist, VOGUE
Of course, there's a lot more than happiness sewn up in these pillows. But they are undeniably uplifting and have been making their way around the world.

Margot Guralnick, Remodelista, architecture and interiors editor
The extraordinary story of In Casa by Paboy's ruffled cushions

Charlotte McCaughan-Hawes, Digital Features Writer, House&Garden